Caroline's nursery was put together so fast (and I love it!). But I've really enjoyed thinking about how we can transform it into a room for two babies. Since we're not finding out if Baby Two will be a boy or a girl, I'm waiting to do most of the fun decorating part like painting walls and picking out artwork until he or she is born.
That lack of information has not stopped me from getting a few things done! I've done more organizing in our house in the last two weeks than since we moved in nearly two years ago. Major nesting going on here! Step one was organizing my clothes and all the baby clothes that we've been fortunate enough to inherit from family and friends. When Sis and EM came for Caroline's baptism they brought me clothing racks from IKEA (and Sis stayed up super late organizing my clothes for me which until then had been spread out between under the bed in my bedroom, the closet in Caroline's room, the attic and upstairs). Obviously, we have a closet shortage in this house!
And now I'm to the more fun part of decorating (or at least decorating in my head!). And where does one start to look? At Downtown Abbey, of course! Just think in that huge castle, all three children share the nursery! The
night nursery
is shown only in a few scenes (and I guess the rest of my house is the day nursery!). This
designer
had some good takes on it. And this is a little off topic, but I found this neat list of
books
that the children in the Downton nursery would have been read.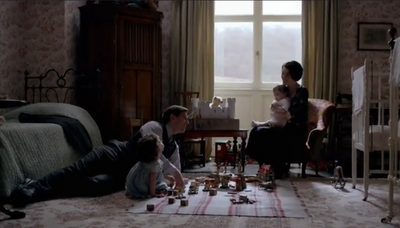 But since we do live in more modern times (and our cottage is far from Highclere Castle), here are some other things I've found and are on the wanted list...
This baby alpaca print (from
here
) - Ryan LOVES alpacas. Here's a
nursery
that incorporates it from a Cup of Jo blog.
These
balloon curtains
from Target are within my price range. However, I'm not sure how well they will actually block out the light. The blinds in this room look a little rough so I'm also thinking of taking them down and installing
blackout vinyl roller shades
.
I love the clean lines and neutral colors in Scandinavian design and
this nursery
in the Netherlands is just dreamy. I think this gray color would work well for two girls or a girl/boy nursery. The floating shelves would be great too; although having them over a crib makes me nervous. The little red rocking moose in the last photo on linked page is from IKEA - I spotted him a few weeks ago as an idea for Caroline for Christmas. I love him!
As of now, here's how the nursery looks. The long wall that the two cribs share I'd like to make into an accent wall either with paint or wallpaper. Or maybe paint the whole room the calming grey color seen above. The computer (out of the picture but in front of the blue chair) is eventually going upstairs, but we've got to get the internet company to come run a new line up there. Unfortunately, there is no where else in the house where the desk can go, so we've got to work around it. I'm thinking we can do some kind of shelving above the desk to store toys and books. And maybe use the desk for arts and crafts.
The mini crib needs a skirt and I've found someone on Etsy to sew one but am waiting to see if we need a ruffled skirt (for a girl) or a box pleat (for a boy). The set on Caroline's bed (and the comforter that goes with it is draped over the mini crib for now) was Elizabeth Magee's and I just love it! The blanket on the back of the glider was a gift from my friend, Emily, and the colors really inspired Caroline's nursery. I love the combination of soft pink and gray. Sis picked out the rug from TJMAxx when she pulled together Caroline's nursery in
one amazing weekend
.
Once the computer is out of the way, I'm hoping to rearrange a bit so that the glider doesn't have to be moved to get into the drawers in the corner closet! That's just a little inconvenient at the moment. And eventually I'd like to create more of a gallery wall above the changing table. If baby two is a boy, we'll have to get some blue things to balance out the pink! The little closet on the right houses the hot water heater so it's of no use for storage.
I have a few special items that people have given us to add including my grandfather's lovey from when he was a little boy.
Anyone think I'm going to need a larger laundry basket? How in the world does one tiny person create so much laundry? But C's laundry is still so much more fun to do than my own! Any ideas greatly appreciated!