When we looked at (and fell in love with) this house
back in March
, I knew our number one challenge in the living room was going to be a sofa! Ours that we had was way too big and, honestly, I was ready for a different look anyway. The living room is small and has doors that open to the outside on two walls, and one wall opens up to both the dining room/kitchen and the hallway. So not only is it a small room, but there is really only one good spot for a sofa. And the max length of the sofa is no more than 80 inches. If you've looked at furniture lately, you know most sofas are now more like 90 to 95 inches.
We sold the sofa we had in Jackson and bought the one that was in the house from the previous owner. Now I couldn't remember exactly what it looked like, but I remembered not not liking it and that it fit perfectly into the living room. We got it for $75 and I thought we were done. I did not expect Ryan to not like it. At all. Like refuses to sit on it because he doesn't know where it's been. So...back to the drawing board. Fortunately, there's lots of places to look here!
Option 1) This sofa "Milari" from Ashley Furniture was my favorite in the beginning. I love the nailheads on the arms and the color was just right. It was even on sale for $499. However, it was too long for our space and the cushions didn't flip. That's a big deal to me - I tend to spill things like red wine and chocolate milk!
Option 2) Also from Ashley but the same issues as in #1. I did love the buttons on the back - reminds me of Corduroy Bear.
Option 3) This World Market slipcovered sofa was the right price but seemed just a little small and looked "college" to me and not grown-up-living-room.
Option 4) Another contender was Macy's "Chloe" sofa. It was the right size but didn't seem overly comfy. And at $699 was more than we wanted to spend.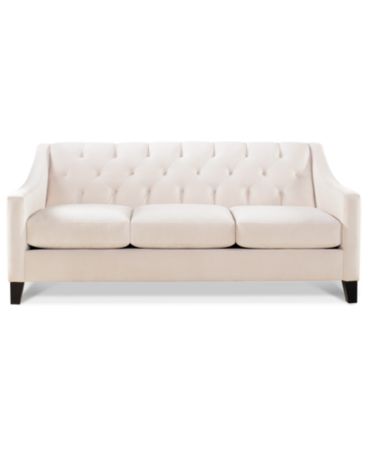 Option 5) We saw several options at Haverty's but the salesperson took the wrong approach at trying to sway me. She went on and on about how this $2,000 sofa would last us 10 years. If I spend that much on sofa it better last way more than 10 years! This was one of the options - the "Katy" sofa for $1,499. A steal according to her. Ha! However, the cushions did flip and the quality was outstanding. But way over our budget.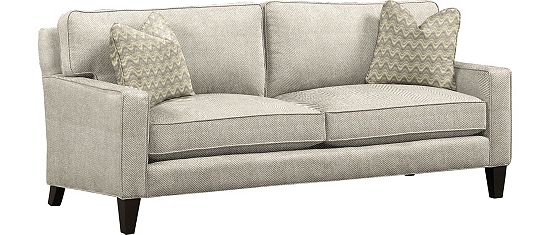 Option 6) When I was getting my oil changed I noticed there was a blow-out furniture store behind the shop. The kind with big neon letters. So I decided to take a look and was impressed with the options. This was my favorite (sans the pillows). It had been marked down from $1,188 to $588. And then the sales guy said $470 and I was walking out the door he said $420. I promised to bring Ryan back that evening.
We picked it up last night and just love it! The cushions do flip and it's long and wide enough for us to both enjoy it. Now if I can just sell the other sofa and get my living room back in order, we will be all set!