PTL, it's finally almost the weekend. This has been one long week - probably because I woke up Tuesday morning thinking it was Friday. Not even close. Or because we have a fun weekend planned involving dove hunting, family, Ole Miss football and friends. Or because tonight is #FondrenAfter5 and I so, so tired of being hot all the time.
Here's some funnies to get your long weekend off to a great start:
Birthday E-Card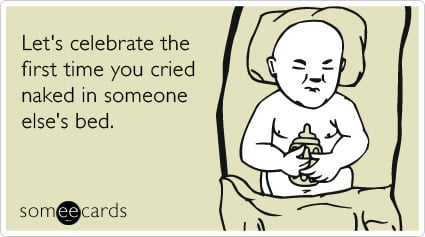 From:
http://www.someecards.com/birthday-cards/cry-naked-baby-birth?ref=nf
Political Cartoon
The national media didn't give it too much attention this year because of Irene, but this week marked the sixth anniversary of Katrina. You can find all of Marshall Ramsey's Katrina cartoons
here
.
YouTube Video
And last but not least, my favorite. The Honey Badger Who Don't Care. It is so worth three minutes and 21 seconds of your time. Learn more about the Honey Badger, aka
Mellivora capensis,
here
.
Shout out to DeeDee for showing me this:
Warning: a little bit of bad language - but really, would the honey badger care? I don't think so.
Happy Labor Day!