I recently finished
"Unbroken"
by Laura Hillenbrand. It was, by far, the best book I've ever read. And then I started reading about the author (she also wrote "Seabiscuit") and now I don't know which one I'm more impressed by - Olympic runner and Japan POW survivor Louie Zamperini or writer Laura Hillenbrand who wrote the book while unable to leave her house for years because of chronic fatigue syndrome.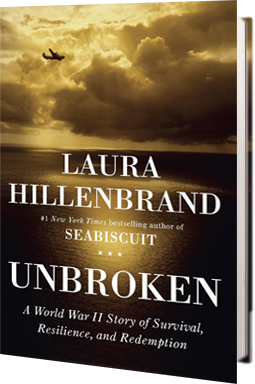 Louie Zamperini beside his plan after fighting in the Pacific.
Here's a great article that was in The Washington Post:
http://www.washingtonpost.com/wp-dyn/content/article/2010/11/28/AR2010112803533.html
. She interviewed Zamperini 75 times in the years she was working on the book. Here's an excerpt from the article:
For seven years, they developed a friendship in absentia. Zamperini didn't know why all of their conversations were over the phone until he read an interview with Hillenbrand and learned about her illness. Then, "I sent her one of my Purple Hearts. I said, you deserve this more than me."
Journalists have liked pointing out the irony of Hillenbrand's work: A woman for whom walking around the block constitutes a marathon writes about the finest specimens of physical endurance.
It's not irony, she says. It's escape. "I'm looking for a way out of here. I can't have it physically, so I'm going to have it intellectually. It was a beautiful thing to ride Seabiscuit in my imagination. And it's just fantastic to be there alongside Louie as he's breaking the NCAA mile record. People at these vigorous moments in their lives - it's my way of living vicariously."
Amazing! The book has also made me curious about family members who served in WWII. Mama Jean's two older brothers were both pilots and survived the war. One is still alive. Doc's grandfather (who passed away when he was little) was a POW in the European Theatre. He was captured after the Battle of the Bulge. He was hiding with other soldiers in a German family's house, when Nazi youth (with guns taller than they were) arrested the soldiers and turned them into the Nazis). And my Aunt Carole's father was in Europe.
I absolutely cannot imagine what these men lived though. And how they were able to rebuild their lives to become meaningful, productive citizens and husbands, fathers and friends. The emotional scars from a wartime experience, especially one including imprisonment as a POW, are just beyond where my brain is capable of going. God bless our troops!